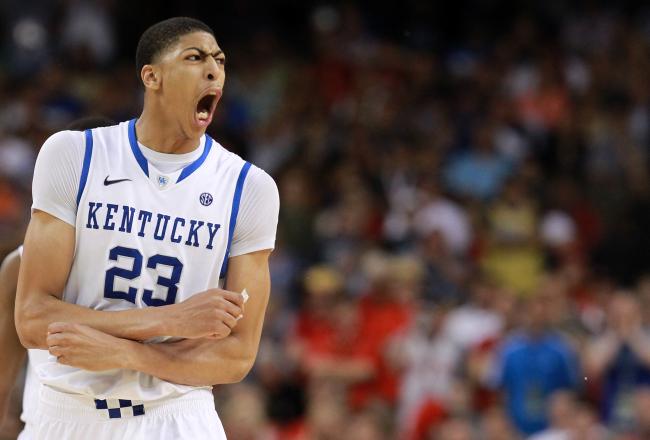 As the Sixers prepare for Thursdays draft, the expected question pops up again: do they draft for need or take the best player available? For this draft and team, the pick has to be based on need. And what the Sixers desperately need is a legitimate shooter who can knock down threes and some frontcourt depth, particularly someone with length and athleticism. For those fans out there thinking the Sixers will draft a prospective superstar necessary to contend in the NBA, forget about it. At pick 15 the Sixers are not within striking distance of any of the top level rookies. But hey, you can always hope to strike gold. Some notable players selected 15th overall include:
*Al Jefferson in 2004(High School): career averages of 16.2 ppg and 8.9 rpg
*Rodney Stuckey in 2007(Eastern Washington University): has averaged over 13 ppg every season but his rookie year.
*Dell Curry in 1986(Virginia Tech): The father of Stephen Curry and current Duke guard Seth Curry. Dell was one of the best 3pt shooters in history, and similarly to Lou Williams was used as instant offense of the bench. He won the sixth man of the year award in 1994.
Speaking of Lou Williams, the team may be without their leading scorer next season as he decided to opt out of his contract and test the market. The question marks for next season don't end there either. Spencer Hawes is an unrestricted free agent, Elton Brand may not be playing here next year if the team chooses to use its amnesty, and the annual Iguodala trade rumors have surfaced again. Whoever the Sixers select with their first pick will be an indicator of future offseason moves.
Fortunately for the Sixers, this draft is loaded with big men and some capable scorers so the Sixers may find themselves drafting the best player on the board who may also fit a need. There are a ton of potential players the Sixers could choose from due to a drop-off in predictability after about the sixth pick. Here are some players who I think the Sixers might take at 15th overall, and how they fit into the Sixers scheme.
1)      Terrence Ross SG/SF (6-7, Soph, Washington): Ross is a SG/SF tweener who can shoot the ball exceptionally well. Last season he averaged 15 ppg and shot 37.1 from 3pt range. He can also attack the rim as well. If selected, he would give the team a much need shooting presence in the half-court game. He would provide spot up shooting that could help open up the floor for others as well.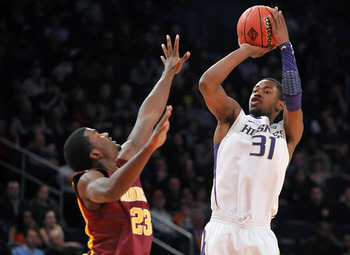 2)      Austin Rivers SG (6-4, Fresh, Duke): If Rivers falls to the Sixers they may be faced with a difficult decision on whether to draft the one and done playmaker. The freshman averaged 15 ppg for the Blue Devils last year and has tremendous potential. He can shoot well, handle the ball, and create his own shot. All things the Sixers need. However, his style of play depends on having the ball in his hands, like Holiday and Turner, which might take away from their game and development.
3)      Dion Waiters SG (6-4, Soph, Syracuse): This South Philly native could be the possible replacement to Lou Williams. Despite being Cuse's best offensive player, he came off the bench as a game changing scoring threat. Waiters uses his strength and ball handling to attack the rim and get to the foul line. His stock took off late in March, and it's a high possibility he is off the board before 15.
4)      Arnett Moultrie PF (6-10, Jr, Miss St): Moultrie is a freakish athlete and a tenacious rebounder, averaging just under 11 rpg last season. His size, length, and high motor would give the Sixers much needed front court depth. Moultrie also has a formidable mid range jump shot, similar to Spencer Hawes. However, his post game is unpolished and some scouts question his work ethic on the defensive end.
 5)      Tyler Zeller PF/C (7, Sr, UNC): Tyler Zeller is one of the more straightforward picks in the draft. What you see is what you're going to get out of him. And that might be just what the Sixers need. Having played four years of college ball in the tough ACC, Zeller is smart enough and talented enough to contribute quality minutes to an NBA team. While he most likely will never be a star, he can provide defense, rebounding, and depth. He can also finish around the rim and run the court fluidly, which is mandatory to play for the Sixers.
6)      Jared Sullinger PF (6-8, Soph, Ohio St): Sullinger was once considered a top three selection. However, he didn't make much progress after freshman year and continues to look out of shape. Despite this, Sullinger is undoubtedly the best low post threat in the draft. And his rebounding skills should transition over to the pros. Who knows, his body and skill set kind of remind me of Charles Barkley, but the Sixers might opt for someone with more size and athleticism.
Outside Possibilities
Jeremy Lamb SG (6-5, Soph, UCONN): Excellent shooter but saw his decline after helping Huskies win 2011 championship
Meyers Leonard C (7-1, Soph, Illinois): Unpolished and raw but has a ton of potential. Probably too much of a risk for the Sixers. And they took Vucevic last year who was also a project, so I don't envision another here.
There is little chance the Sixers make a trade out of this position so it will be interesting to see their selection with such a wide variety of available players.